I already bought RegClean Pro but it keep asking me to purchase; why is that?
Posted by Hema Ghai on 27 March 2012 01:28 PM
Once you have purchased RegClean Pro, install the program and register it before fixing any errors using the registration key you purchased.
The download link and registration key are included in the confirmation e-mail which is sent to your registered email address upon successful purchase of the product.
Please note the unregistered version will fix only 15 errors. Therefore, please register the program first using the registration key. You will be prompted to purchase the program again and again until you register it.
To register/activate RegClean Pro, please follow the steps below:
1. Launch RegClean Pro.
2. On the top right corner of the main screen, you will see the Register Now option.
3. Click on the Register Now option.
4. In the new window that opens, copy and paste the registration key (avoid typing the key manually).
5. Click on the Register Now button.
6. The product will be registered and will automatically restart.
7. Now run a scan and fix the detected errors.
Please note that registration details are product and version specific so you can use them only with the product and its version you have purchased.
If you did not receive the confirmation e-mail, you can contact our support team at
support@systweak.com with the order number/reference number of the program; we will send you the registration details again.
To enter the key please see attached screenshots below: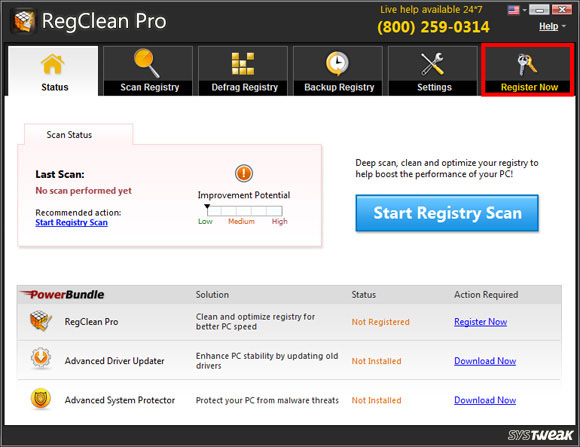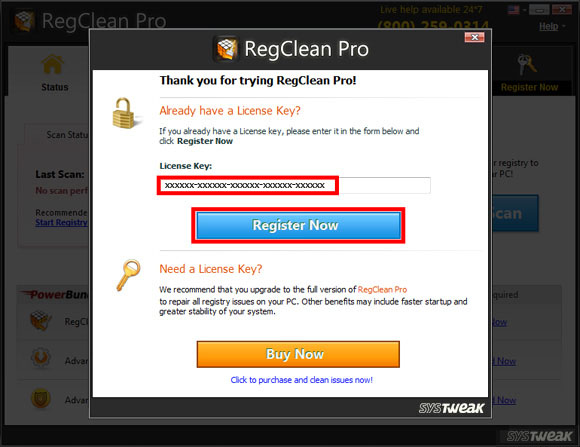 ---